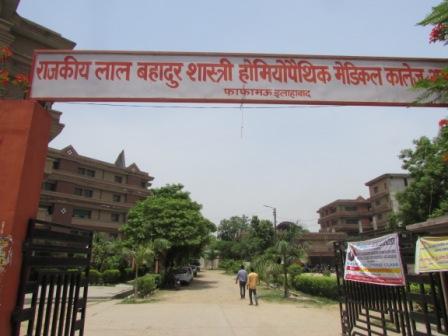 Lal Bahadur Shastri Homoeopathic Medical College & Hospital Prayag Raj was established on 1966 with active support and efforts of Prestigious people of Prayag Raj like former Prime Minister Shri Viswanath Pratap Singh, former Cabinet Minister Smt. Rajendri Kumari Vajpayee, Chaudhari Naunihal Singh, Dr. Ram Chandar, Dr. Baldev Prasad Srivastava, Dr. Prem Shankar Agrawal, Dr. Amolak Raj, Dr. H. N. Tandon, Caption (Dr.) R. R. Koti ,
Dr. D. Kaur, Dr. R. S. Vyas, Dr. Umashankar, Justice Gyanendra Kumar ,Shri P.M. Pachori, Justice Sanjay Mishra, Advocate Pt. Kanhaiya Lal Mishra etc. and commissioner Shri J. N. Tiwari that time on the name of our former Prime Minister Late Shree Lal Bahadur shastri.
Private Management was replaced by Appointment of DM as Administrator in Year 1974 and from 1981 it come under UP Government through an order of Provincialisation ( Order No.8502 Sek-9/five -81-1003/80 Lucknow Dated 11 December 1981) .
College is Imparting BHMS Degree in take capacity 50 admission affiliated by Dr. Bhim Rao Ambedkar University Agra since 1981.
State Lal Bahadur Shastri Homoeopathic Medical College & Hospital also provides quality clinical care, homoeopathic research and serve as a best public information center on Homoeopathy Medicine. The college has a well equipped departments and lecture rooms for teaching and laboratories for practical training.
Quick Links