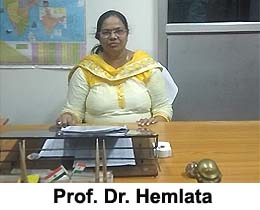 It gives me immense pleasure in introducing my institution Govt. Lal Bahadur Shastri Homoeopathic Medical College & Hospital Prayag Raj was established on 1966. Today it is a premier institution imparting quality education in the field of homoeopathy. The curriculum at this college is a perfect blend of academic acumen and professional inquisitiveness.
The college is proud of its achievements of preparing over 3000 doctors spread all over the India. Apart from this So many students graduating from this Institute are glorifies the name in the field of Homoeopathy all around the country are the proud products of this institution.
Social accountability is given high priority by all our students while discharging their duties as responsible physicians.
I deem it a privilege to head such a renowned institution. The institution has a motivated, academically excellent, committed, competent and dedicated teaching faculty.
Qualification

B.H.M.S.
From Agra Unversityin 1993
M.D.(HOM.).
Homeopathic Materia from J.R.N. Vidyapeeth Udaipur Rajasthan in 2007

Other Particulars

REGISTRATION NO.& BOARD.
H-23977 Homeophatic Medicine Board Uttar Pradesh
DATE OF BIRTH
08-02-1968
DATE OF JOINING
04-07-2019
PERMANENT ADDRESS
Village-Vesan Thana Chaubepur Dist Kanpur Nagar
MOBILE NO.
+91-945 246 1704
EMAIL
drhemlata2@gmail.com
ADHAAR NO
607 475 594271